The below information will help explain about the audio visual capabilities in our chapels.
Music
There is piped music in all of our 3 chapels.
We primarily use Spotify (Premium) and YouTube( Premium) streaming services in all our 3 chapels. If you would like to use either of these streaming services, then please email us at info@mountjerome.ie in advance of your service, CLEARLY LISTING:
1. Name of deceased & date and time of the cremation service.
2. The link (copied and pasted by you) from whichever streaming service above has your desired music track in its library. Please bear in mind that not all streaming providers have 100% similar streaming libraries.
3. The track name, artist name and (if applicable) the album name.
We cannot be held responsible if an incorrect music track is played from either streaming service, if it is not clearly listed on your email request. This is especially the case with classical or instrumental pieces of music.
We can also play music from USB Sticks (formatted for Microsoft Windows).
The length of the service will dictate how many music tracks can be played . Up to 3 can be played during a 20 minute committal service and up to 5 pieces of music during a 40 minute full service. Please check with us or your funeral director as to the amount of time that is allotted for your service.
Digital Pictures & Videos
All our 3 Chapels have large Digital Screens positioned directly above the coffin, which can show a digital picture or video during a service.
The below 3 digital sources can be utilised for this purpose. Please note that (1) below is ONLY for when a single picture is to be displayed. Any multiple pictures / slide shows or videos have are best supplied on (2) below.
By Email to info@mountjerome.ie (for a SINGLE digital picture only !)
USB sticks (new empty USB sticks with original JPEG files formatted for Microsoft Windows & TEST BEFOREHAND on a smart TV)
Laptops (usually require the owner of the laptop to operate it during the service)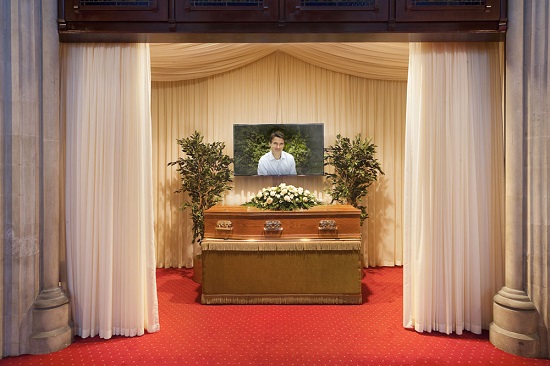 Please check with us or your funeral director as to the amount of time that is allotted for your service (i.e. committal service 20 mins or a full service 40 minutes). This will dictate how many digital pictures / videos can be shown.