The General Cemetery Company of Dublin was established by an Act of Parliament in 1834 during the 4th and 5th years of the reign of King William IV. There were nearly 100 shareholders in this new company with an initial capital of £12,000, subscribed in £10 shares. This company bought the lands and house of Mount Jerome in Harold's Cross from the Earl of Meath, John Chambre, on the 23rd January 1836. This is the reason why the General Cemetery Company of Dublin became popularly known as Mount Jerome Cemetery.
The first burial took place on 19th September 1836 of the infant twins of Matthew Pollock. Since then 225,000 interments have taken place over the last 185 years. The cemetery started at 26 acres and expanded to its present 47 acre size in 1874.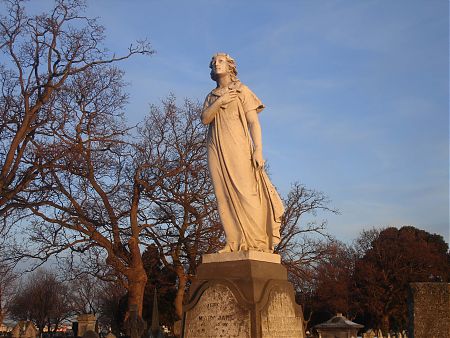 Because Mount Jerome became established during the Victorian era, the monuments you find here are a materialistic expression of the success of the Victorian middle classes from that period. As a result Mount Jerome Cemetery has one of the finest collections of Victorian memorials, tombs, vaults and crypts in Ireland.
Due to the declining burial numbers in the 1970's, the condition of the Cemetery began to deteriorate as revenues fell. In 1984 it was put into voluntary liquidation. By the late 1990's, it had fallen into a serious state of neglect with large swaths of the cemetery covered in overgrowth.
However with new owners in 1998 and the opening of a Crematorium in 2000, revenues have recovered and the Cemetery has undergone a complete reversal of fortune. The ongoing funds provided by the Crematorium have afforded the Cemetery the means to put in place a proper maintenance program to prevent it falling into decline again.